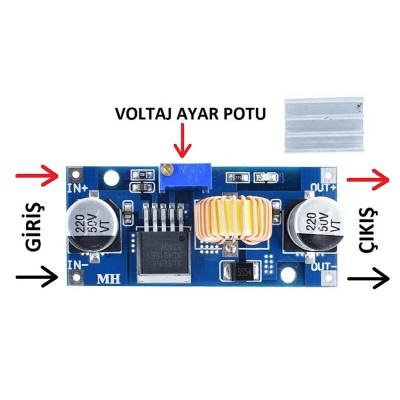 XL4015 5A Step-Down Ayarlı Power Modülü
This DC-DC buck converter xl4015 voltage regulator board features an XL4015 step-down switching regulator capable of current up to 5A, capable of converting higher voltage to a lower voltage, without requiring additional power supply.
The DC/DC buck module applications the input voltage is higher than the output voltage of the buck field, such as battery, power transformer, DIY adjustable regulated power supply, LCD Monitor and LCD TV,portable instrument power supply,telecom/networking equipment,24Vvehicle notebook power supply,industrial equipment buck.12V buck to 3.3V, 12V buck to 5V, 24V buck to 5V,24V buck to 12V, 36V buck to 24V etc.
This product is a 180 KHz fixed frequency PWM buck (step-down) DC/DC module,capable of driving a 5A load with high efficiency, low ripple and excellent line and load regulation.
Module highlights:5A high power.high efficiency and low ripple with power indicator !
Input voltage range:4-38VDC(Note:input voltage not exceeding 38V)
Output voltage range:1.25-36VDC adjustable
Output current: 0-5A
Output power: 75W
Operating temperature: -40 ~ +85 degrees
Operating frequency: 180KHz
High efficiency up to 96%
Built in thermal shutdown function
Built in current limit function
Built in output short protection function
Load regulation: S (I) ? 0.8% (input 24V, output 12V, load from 1 ~ 4.5A change measured)
Voltage regulation: S (u) ? 0.8% (output 12V, 4A, the voltage from 18 ~ 32V measured when)
Short-circuit protection: Yes (limit current 8A)
Power indicator: Yes
Over-temperature protection: Yes (automatic shutdown after over-temperature output)
Input reverse polarity protection: None, (if necessary, input high current diode in series)
10.L x W x H =5.4*2.3*1.5CM


Note:
1.When the module output voltage can not be adjusted, the output voltage is always equal to the input voltage.Please adjust the potentiometer counterclockwise 20 laps or more. (Let potentiometer against your chest, counterclockwise turn boost) .
2. Input voltage must be higher than the output voltage of 1.5v or more
3. high current or high power needed to enhance heat dissipation
Paket İçeriği :
1 Adet XL4015 Step-Down Power Modül
XL4015 5A Voltaj Düşürücü