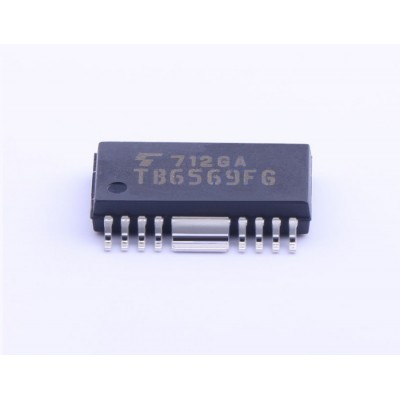 TB6569FG Full-Bridge 50V 4.5A DC Motor Driver IC

The TB6569FG/FTG is a full-bridge DC motor driver with MOS output transistors.
The low ON-resistance MOS process and PWM control enables driving DC motors with high thermal efficiency.
Four operating modes are selectable via IN1 and IN2: clockwise (CW), counterclockwise (CCW), Short Brake and Stop.
Features
Power supply voltage : 50 V (max)
Output current : 4.5 A (max)
Direct PWM control
PWM constasnt-current control
CW/CCW/Short Brake/Stop modes
Overcurrent shutdown circuit (ISD)
Overcurrent detection threshold control
Overcurrent detection time control
Overvoltage shutdown circuit (VSD)
Thermal shutdown circuit (TSD)
Undervoltage lockout circuit (UVLO)
Dead time for preventing shoot-through current
TB6569FG 50V 4.5A DC Motor Driver IC