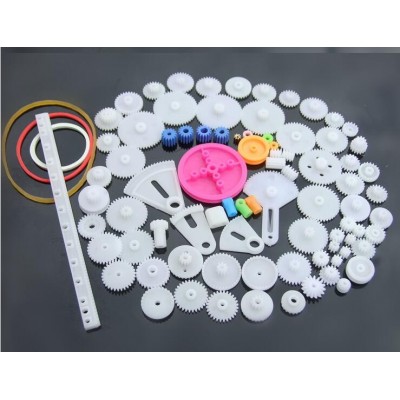 85 Parça Plastik Dişli Seti
Bir özel araba, helikpter, oyuncak, bir el aleti vb gibi ürünlerin içerisindeki dişliler bu setlerden çıkmaz. Dişlilerin genişlik, çap, dişlinin et kalınlığı, 2 dişli arasındaki mesafe, dişli sayısı gibi parametreleri vardır. Bu parametrelerdeki en ufak değişim dişlilerin birbirlerine uymamasına sebep olmaktadır. Bu tip ihtiyaçlarınız için 3D printer baskı hizmeti veren firmalardan ürününüzü bastırarak halletmeniz gerekiyor.
İade etme durumunuz olacak ise satın almamanızı rica ediyoruz.
85 Adet farklı boyutlardaki dişli seti.
85 kinds of gear bags, styles Plastic Gears Robot Part DIY for cars, planes models gadgets
It is indispensable for the aircraft, cars, boats, small production of science and technology
The strength of the gear is infinite, Any mechanical need gear in his world.
Specification:
Material: Plastic
Color: As picture shows
Quantity: 85pcs
19 double gears
15 single gears
14 crown gears
8 shaft gears
4 belt gears
4 colorful shaft sleeve: blue/green/yellow three-way, white four-way
4 blue shaft gears: 3/4mm D-shaped aperture, 2.3/3.17mm round aperture
4 fan-shaped gears: 12T, 15T, 21T, 28T
3 worm gears: 6-6, 6-7, 6-8
3 shaft sleeves
3 rubber rings as 1
2 clutch gears: 163A, 263B
1 large size belt gear: 363A2AB pink belt gear
1 long shaft gear: 102A long
1 brass gear
1 bevel gear
1 rack
Paket İçeriği :
85 Pcs Plastic Gear Kit