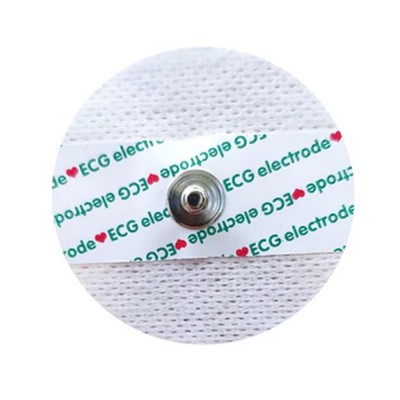 EKG ECG Elektrot Ölçüm Padi
EKG ciihazları için elektrod ped, elektrot ölçüm padi. Yuvarlak yapıdadır. Çapı 50mm dir. EKG Cihazları için Elektrod Ped
50mm Çapında yuvarlak yapı
Çıtçıtlı
ECG sinyallerinin aktarılmasını sağlar.
Elektiriği çabuk ileten jel ile kaplı
Kolay kullanıma sahiptir

Features:
Easy to stick and firm
Non-drying conductive gel can be stored for a long time
No residual glue on the body surface after clinical use
Advanced manufacturing technology, stable and effective product quality
Scientific design concept, easy to use
With excellent electrical performance, clear ECG waveform

Instructions for use:
Clean the skin where the electrode is placed with sand or alcohol.
Connect the electrode lead wires.
Remove the electrode from the backing paper.
Lightly press the backing of the electrode on the application site.
Fold the opened packaging bag in two layers and save it.
Paket İçeriği:
1 Adet EKG ECG Elektrot Ölçüm Padi
EKG ECG Elektrot Ölçüm Padi