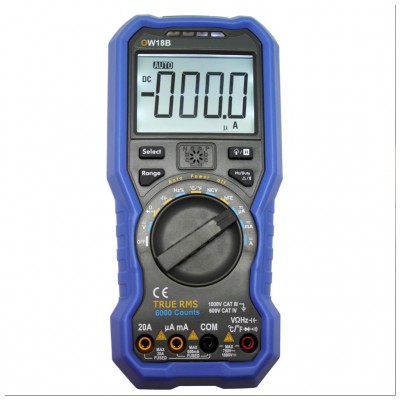 OWON OW18B Bluetooth True RMS Dijital Multimetre
Bluetooth Data Logger
Features:
This product has chart and diagram mode which can help to analyze the data tendency.
Measures AC/DC voltage, current, resistance, frequency, temperature, diode test, duty cycle, hFE, NCV, capacitance, etc.
This digital multimeter supports NCV non-contact voltage sense.
Large high-definition LCD display, maximum display: 5999.
Large display with flashlight--Large display with high brightness flashlight. Can implement the test among darkness.
LCD backlight, you can read it clearly even in the sunny day.
Sleep mode, if you choose the sleep mode, it will not disturb you during this time.
Auto power-off, data hold and LCD backlight function.
Low-battery indicator. When the power is low, it will remind you.
Multifunctional digital multimeter, it can be data logger, multimeter and thermometer.
Applied to electronic circuit debugging, circuit testing, design and manufacture education and training , automobile maintenance and testing, etc.
Support continuity buzzer and low voltage indication.
Support temperature test
Voice broadcast secures the test--After installing the TTS voice pack on smartphone, the app supports voice broadcast. User can focus on wire connection without watching the display value. This assure the connection safety.
Function:
3 5/6 bit resolution
Multimeter
Thermometer
Data Logger and thermometer.--Real time data are updated and recorded to end user device, no need to be in field. User can define the record time and sampling gap, data can be shown as chart and diagram, multi-devices connection supports data comparison. User and test object are totally isolated, which secure the life.
Chart and Diagram mode helps to analyze the data tendency
Support NCV non-contact voltage sense
True RMS test supported
BLE 4.0 wireless transmission, more stable, less power consumption
BLE 4.0 wireless transmission, support muti-devices connection and single-display monitoring--One mobile end can connect with multiple multimeters, the test object is totally isolated with user to secure their life.
Support muti-devices connection and single-display monitoring.
Widely supported on Android, iOS
Build-in offline record function supports non-stop up to 7 days non-stop recording
Flashlight function lightens the darkness
| | | | |
| --- | --- | --- | --- |
| Bluetooth Module | √ (only in OW18B) | Auto Ranging | √ |
| True RMS | √ | LCD Backlight | √ |
| Diode Test | √ | Automatic-manual Range Selection | √ |
| Auto Power-off | √ | Input Protection | √ |
| On-off Warning | √ | Input Impedance | ≥10MΩ |
| Low-battery Indicator | √ | Safety Compliance | CATⅣ600V, CATⅢ1000V |
| Data Hold | √ | NCV | √ |
| Relative Measurement | √ | Dimension (W×H×D) | 190 x 90 x56 (mm) |
| Flashlight | √ | Weight (without package) | 0.30 kg |
Model: OW18A / OW18B
Measurement Ragnge
Resolution
Accruacy

DC Voltage
60.00mV / 600.0mV
0.01mV
±(0.5%+2 dig)
6.000V / 60.00V / 600.0V
1 mV
1000V
1 V
±(0.8%+2 dig)

AC Voltage
600.0mV
0.1mV
±(0.8%+3dig)
6.000V / 60.00V / 600.0V
1 mV
750V
1 V
±(1%+3dig)
DC Current
μA
600.0uA / 6000μA
0.1μA
±(0.8%+2dig)
mA
60.00mA / 600.0mA
0.01mA
A
20.00A
0.01A
±(1.2%+3dig)
AC Current
μA
600.0uA / 6000μA
0.1μA
±(1%+3dig)
mA
60.00mA / 600.0mA
0.01mA
A
20.00A
0.01A
±(1.5%+3dig)
Resistance
600.0Ω / 6.000kΩ / 60.00kΩ / 600.0kΩ / 6.000MΩ
0.1Ω
±(0.8%+2dig)
60.00MΩ
0.01 MΩ
±(2%+3dig)
Capacitance
60.00nF / 600.0nF / 6.000μF / 60.00μF
0.01nF
±(2.5%+3dig)
600.0μF / 6.000mF / 60.00mF
0.1μF
±(3%+5dig)
Frequency
9.999Hz / 99,99Hz/999.9Hz / 9.999kHz / 99.99kHz / 999.9kHz / 9.999MHz
0.001Hz
±(0.8%+2dig)
Duty Ratio
0.1% - 99.9% ( typical value:Vrms=1V, f=1kHz)
0.1%
±(1.2%+3dig)
0.1% - 99.9% ( ≥1kHz )
±(2.5%+3dig)
Temperature (°C/°F)
- 50 ℃~ +400℃
1℃
±(2.5%+3dig)
-58 ℉~ +752 ℉
1℉
±(4.5%+5dig)
Display
5999
Frequency Response
(40 - 1000) Hz
Shift Rate
3 times/s
Paket İçeriği:
1 Adet OW18B Multimetre
2 Adet Prob
2 Adet Timsah Prob Ucu
1 Adet K-type Thermocouple
1 Adet Tornavida
OW18B Bluetooth True RMS Multimetre