OWON B35T Bluetooth True RMS Dijital Multimetre
Bluetooth Data Logger
B35T owon 3 5/6 digital multimeter with bluetooth, true rms multimeter, OWON b35t, ios multimeter, 6000 count multimeter, bluetooth multimeter with cheap price from us. We have many products in stock at your choice. Consult the quotation with us now.
1) More than 1 device could be monitored, assuring more measurement safety: Several units DMMs possibly communicated with mobile app, freeing people from touching the measured object, human safety fully guaranteed.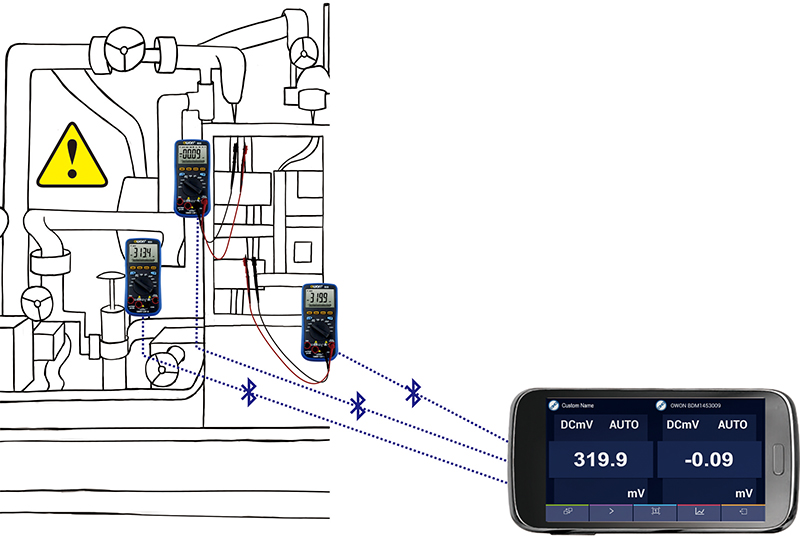 2) Functioning as multimeter + datalogger: The measured data always updated, and auto- recorded to mobile device, saving labor to do on-site records; the recoding duration, and sampling duration could be customized, accessible in chart mode, facilitating comparison analysis between several DMMs.
3) Offline record function: User don't have to leave the phone on measure site, just use App to set the record interval and sum points. Multimeter will record the data itself and store them in its memory. Load the data from multimeter when there is analysis requirement.
Data can be displayed as live, hold, min/max, or relative (to a stored reference value).

The B35T multimeter supports communications with Android-based smart devices through a Bluetooth. With the free app, the B35T can send measurements to an Android device (V 4.0 or above) within 30 feet to monitor the measurements, perform remote control, view trending graphs, etc. The recorded data also can be saved as.CSV file, and more than one meter can be connect at the same time. This setup can provide an audible output of the readings through Android's text-to-speech (TTS) feature. The Android app can display a data trend graph and data table together.

The B35T multimeter is supplied with test leads, a multifunction test socket, a user manual and a K-type thermocouple. It will find application in electronic circuit debug and test, education and training, and automobile maintenance. Compact (3.4" x 7.3" x 1.2") and lightweight (0.7lb) in an attractive case with built-in tilt stand, the B35T is ideal for any tool kit.

Features:
This product has chart and diagram mode which can help to analyze the data tendency.
Measures AC/DC voltage, current, resistance, frequency, temperature, diode test, duty cycle, hFE, capacitance, etc.
Large high-definition LCD display, maximum display: 6000
Large display with flashlight--Large display with high brightness flashlight. Can implement the test among darkness.
LCD backlight, you can read it clearly even in the sunny day.
Sleep mode, if you choose the sleep mode, it will not disturb you during this time.
Auto power-off, data hold and LCD backlight function.
Low-battery indicator. When the power is low, it will remind you.
Multifunctional digital multimeter, it can be data logger, multimeter and thermometer.
Applied to electronic circuit debugging, circuit testing, design and manufacture education and training , automobile maintenance and testing, etc.
Support continuity buzzer and low voltage indication.
Support temperature test
Voice broadcast secures the test--After installing the TTS voice pack on smartphone, the app supports voice broadcast. User can focus on wire connection without watching the display value. This assure the connection safety.
Function:
3 5/6 bit resolution. Full scale reading, achieving higher measurement accuracy than 3(3/4)-digit counterparts
Larger display, easier data-reading; simulated bar chart comes as an added option
Multimeter
Temperature meter
Data Logger and thermometer.--Real time data are updated and recorded to end user device, no need to be in field. User can define the record time and sampling gap, data can be shown as chart and diagram, multi-devices connection supports data comparison. User and test object are totally isolated, which secure the life.
Chart and Diagram mode helps to analyze the data tendency
Smart power-off option extending battery life
True RMS test supported
BLE 4.0 wireless transmission, more stable, less power consumption
BLE 4.0 wireless transmission, support muti-devices connection and single-display monitoring--One mobile end can connect with multiple multimeters, the test object is totally isolated with user to secure their life.
Support muti-devices connection and single-display monitoring.
Widely supported on Android, iOS
Build-in offline record function supports non-stop up to 7 days non-stop recording
Voice warning supported, which assures measurement safety.
Smart voice-reading accessible.
Auto ranging
√
Max / Min Value
√
Offline Recording Function
available in B35+, and B35T+

Bluetooth Module
available in B35, B35+, B35T and B35T+
Recording Duration
168 hours (7 days)

Record Length
10,000 points

True RMS
available in D35T, B35T, and B35T+
LCD Backlight
√
Simulated Chart
√
Diode Test
√
Input Protection
√
Audion Test
√
Input Impedance
10MΩ
Auto Power-off
√
LCD Size
69 x 52 mm
On-off Warning
√
Display Area
67 x 46 mm (effective area 66 x 45 mm)
Low-battery Indicator
√
Battery
3V (2.5V x 2)
Data Hold
√
Dimension (W x H x D)
85 x 185 x 30 (mm)
Relative Measurement
√
Device Weight
0.32 kg
Model
D35 / D35T / B35 / B35+ / B35T / B35T+
Measurement Range
Resolution
Accuracy
DC Voltage
mV
60.00mV / 600.0mV
0.01mV
±(0.5%+2 digit)
V
60.00mV / 600.0mV / 6.000V / 60.00V
0.1mV
600.0V / 1000V
0.1V
AC Voltage
mV
60.00mV / 600.0mV
0.01mV
±(0.8%+2 digit)
V
60.00mV / 600.0mV / 6.000V / 60.00V
1mV
±(0.8%+2 digit)
600.0V / 750V
0.1V
±(1%+3 digit)
DC Current
μA
600.0μA
0.1μA
±(0.8%+2 digit)
mA
600.0μA / 6.000mA / 60.00mA / 600.0mA / 6.000A
0.01mA
±(0.8%+2 digit)
A
20.00A
1mA
±(1.2%+3 digit)
AC Current
μA
600.0μA
0.1μA
±(1%+3 digit)
mA
600.0μA / 6.000mA / 60.00mA / 600.0mA / 6.000A
0.01mA
±(0.8%+2 digit)
A
20.00A
1mA
±(2%+3 digit)
Resistance
600.0Ω / 6.000kΩ / 60.00kΩ / 600.0kΩ / 6.000MΩ / 10.00MΩ
0.1Ω
±(0.8%+2 digit)
60.00MΩ
0.01MΩ
±(2%+3 digit)
Capacitance
40.00nF
0.01nF
±(2.5%+3 digit)
400.0nF / 4.000μF / 40.00μF
0.1nF
±(2.5%+3 digit)
400.0μF / 4000μF
0.1μF
±(3%+5 digit)
Frequency
9.999Hz / 99.99Hz / 999.9Hz / 9.999kHz / 99.99kHz / 999.9kHz / 9.999MHz
1mHz
±(0.8%+2 digit)
Duty Ratio
0.1% - 99.9% (typical value: Vrms=1V, f=1kHz)
0.1%
±(1.2%+3 digit)
0.1% - 99.9% (≥1kHz)
±(2.5%+2 digit)
Temperature
-50℃ - +400℃
1°C
±(2.5%+3 digit)
-58°F - +752°F
1°F
±(4.5%+5 digit)
Display
6000 - count
Paket İçeriği:
1 Adet B35T Multimetre
2 Adet Prob
2 Adet Timsah Prob Ucu
1 Adet K-type Thermocouple
1 Adet Çok Fonksiyonlu Soket
1 Adet Taşıma Çantası Siyah Fermuarlı
B35T Bluetooth True RMS Multimetre