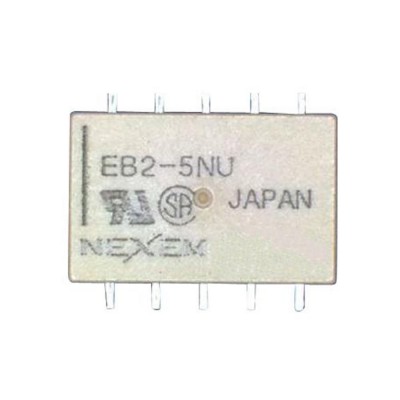 Nexem EB2-5NU SMD Röle
5V DC, DPDT, 1A, EB2 Series, Non Latching
The EB2-5NU from Nexem is a standard miniature signal relay in flat package. Typical applications include electronic switching system, PBX, terminal equipment, telephone system. The EB2 series is a version of the EA2 series, suitable for surface mounting with infrared soldering (lRS) andvapor phase soldering (VPS). This series has three variations of high solder joint reliability type, and low profiletype.

Features:
Switching capacity of 1A at 220VDC, 250VAC
Coil voltage: 5V DC
DPDT contact configuration
2 form c contact arrangement
Low power consumption range from 100mW to 200mW
FCC (1500V) surge capacity
Low magnetic interference
Breakdown voltage: 1 000 VAC (surge voltage 1 500 V), FCC Part 68 conformable
UL recognized (E73266), CSA certified (LR 46266)
Lineup in non-latch, single-coil latch and double-coil latch types
High solder joint reliability (20 years) types
Lineup in minimum footprint (9.3 × 14.3)
7.5 mm × 14.3 mm × 9.3 mm, 1.5 g
Mounting Type Surface Mount
Coil Voltage 5VDC
Contact Form DPDT (2 Form C)
Switching Voltage 250VAC, 220VDC - Max
Coil Type Non Latching
Termination Style Gull Wing
Must Operate Voltage 3.75 VDC
Must Release Voltage 0.5 VDC
Operating Temperature -40°C ~ 85°C
Contact Material Silver Alloy, Gold Alloy
Relay Type General Purpose
Contact Rating (Current) 1 A
Coil Current 28 mA
Operate Time 2 ms
Release Time 1 ms
Coil Resistance 178 Ohms
Applications:
Electronic switching systems, PBX, key telephone systems, automatic test equipment and other electronic equipment.
Paket İçeriği:
5V EB2-5NU SMD Röle