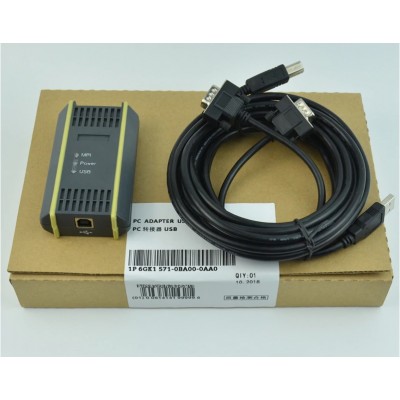 6GK1 571-0BA00-0AA
SIEMENS USB to MPI / DP PPI PC Adapter S7 200 / 300 / 400 PLC Programlayıcı
This PC Adapter USB to USB to MPI and PPI protocol adapter, support S7-300/400 PLC MPI/DP, or S7-200 PLC PPI communication.
Features:
Support S7 200 / 300 / 400 PLC
Support DP master-slave mixed network by EM277 for Simatic S7-200 programming and downloading.
Support 840D CNC system programming
Use original Siemens drive with USB interface directly, no need to creat COM. (STEP7 V5.5 no need to install driver)
Supports full baud rate 9600, 19200, 45.45K, 93.75K, 187.5K, 500K,1.5M kps, MPI port baud rate auto adaptable
Support siemens touch panel with MPI/DP port, such as Mobile Panel 170,Mobile Panel 177,TP170A,TP177A,TP170B,OP177B,OP277,OP270,TP177B,MP177,MP270,MP277,MP370,MP377,TP270.
Support windows 2000/XP/Vista/Windows 7 32/64bit/Windows 10 32/64bit system.
The signal part is high-speed optical coupling isolated like the original.
The selection of PTC resettable fuse which can well protect internal circuitry under overvoltage, overcurrent, short circuit conditions.
The housing has a soft protection, anti-pressure, drop.
Paket içeriği :
1 Adet MPI / DP / PPI PC Adapter 6GK1 571-0BA00-0AA
1 Adet USB Kablo
1 Adet DB9 Bağlantı Kablosu
6GK1 571-0BA00-0AA USB to MPI Adapter