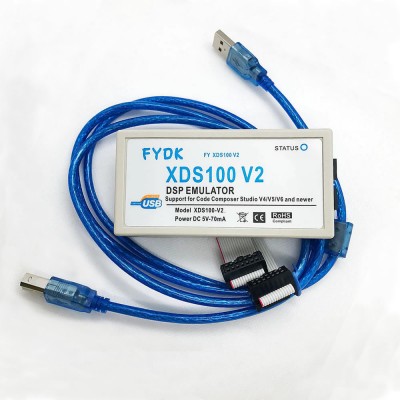 XDS100 V2 DSP Usb Jtag Emulator
Texas TI DSP Hata Ayıklarıcı Programlayıcı Debugger ARM9 Cortex A8 TMS320
The XDS100v2 USB JTAG Emulator is the second release of the XDS100 JTAG emulator technology supporting debug of a variety of TI devices. It allows the user direct access between the host computer and the DSP through a 14-pin JTAG header. It is compatible with Code Composer Studio (CCS) V4 and compatible with Windows XP/Vista/Win7.
Özellikler:
- Support for the following processor cores: TMS320C28x, TMS320C28x, TMS320C54x, TMS320C55x, TMS320C64x+, TMS320C674x, TMS320C66x, ARM 9, ARM Cortex R4, ARM Cortex A8, ARM Cortex A9 and Cortex M3
- Debugging function(connect / disconnect, read / write memory, read the register, load the program, run, stop steps to support the breakpoint debugging, real-time mode)
- Supports On-Chip Flash Programmer(e.g. C2000)
- Support targets with 14-pin TI JTAG connector as used by Texas Instruments embedded processors.
- Support for USB2.0 High Speed (480 Mbit/s)
- Support for Code Composer Studio v4 and newer (Does not support Code Composer Studio v3.3)
- Support CCS5.2
- Support for power-off test and Adaptive Clock
- Support for Windows XP/Vista/Win7
Driver : Code Composer Studio yazılımı yüklendiğinde driverlar otomatik yüklenmektedir..
Paket İçeriği :
1 Adet XDS100 V2 Emulator
1 Adet Usb kablo
1 Adet 14 pin flat kablo
1 Adet 10 pin dupont kablo
XDS100 V2