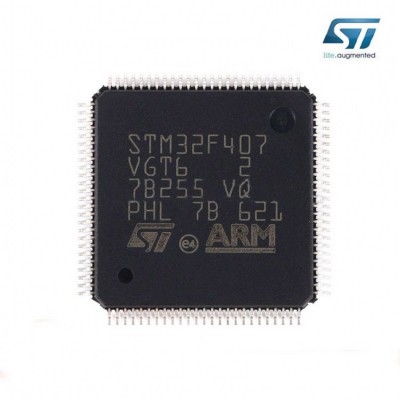 STM32F407VGT6 Microcontroller Lqfp100
Dsp Fpu Arm Cortex-M4 32 Bit Mcu 1 Mbyte Flash 168Mhz Cpu Art Accelerator Ethernet Usb Can
The STM32F405xx and STM32F407xx family is based on the high-performance ARM®Cortex™-M4 32-bit RISC core operating at a frequency of up to 168 MHz. The Cortex-M4 core features a Floating point unit (FPU) single precision which supports all ARM single-precision data-processing instructions and data types. It also implements a full set of DSP instructions and a memory protection unit (MPU) which enhances application security. The Cortex-M4 core with FPU will be referred to as Cortex-M4F throughout this document.

The STM32F405xx and STM32F407xx family incorporates high-speed embedded memories (Flash memory up to 1 Mbyte, up to 192 Kbytes of SRAM), up to 4 Kbytes of backup SRAM, and an extensive range of enhanced I/Os and peripherals connected to two APB buses, three AHB buses and a 32-bit multi-AHB bus matrix.

All devices offer three 12-bit ADCs, two DACs, a low-power RTC, twelve general-purpose 16-bit timers including two PWM timers for motor control, two general-purpose 32-bit timers. a true random number generator (RNG). They also feature standard and advanced communication interfaces.
Key Features
Core: ARM 32-bit Cortex-M4 CPU with FPU
Adaptive real-time accelerator (ART Accelerator) allowing 0-wait state execution from Flash memory
Frequency up to 168 MHz
Memory protection unit
210 DMIPS/1.25 DMIPS/MHz (Dhrystone 2.1)
DSP instructions
Up to 1 Mbyte of Flash memory
Up to 192+4 Kbytes of SRAM including 64-Kbyte of CCM (core coupled memory) data RAM
Flexible static memory controller supporting Compact Flash, SRAM, PSRAM, NOR and NAND memories
LCD parallel interface, 8080/6800 modes
Clock, reset and supply management
1.8 V to 3.6 V application supply and I/Os
POR, PDR, PVD and BOR
4-to-26 MHz crystal oscillator
Internal 16 MHz factory-trimmed RC (1% accuracy)
32 kHz oscillator for RTC with calibration
Internal 32 kHz RC with calibration
Sleep, Stop and Standby modes
VBATsupply for RTC, 20×32 bit backup registers + optional 4 KB backup SRAM
3×12-bit, 2.4 MSPS A/D converters: up to 24 channels and 7.2 MSPS in triple interleaved mode
2×12-bit D/A converters
General-purpose DMA: 16-stream DMA controller with FIFOs and burst support
Up to 17 timers: up to twelve 16-bit and two 32-bit timers up to 168 MHz, each with up to 4 IC/OC/PWM or pulse counter and quadrature (incremental) encoder input
Debug mode
Serial wire debug (SWD) & JTAG interfaces
Cortex-M4 Embedded Trace Macrocell
Up to 140 I/O ports with interrupt capability
Up to 136 fast I/Os up to 84 MHz
Up to 138 5 V-tolerant I/Os
Up to 15 communication interfaces
Up to 3 × I2C interfaces (SMBus/PMBus)
Up to 4 USARTs/2 UARTs (10.5 Mbit/s, ISO 7816 interface, LIN, IrDA, modem control)
Up to 3 SPIs (42 Mbits/s), 2 with muxed full-duplex I2S to achieve audio class accuracy via internal audio PLL or external clock
2 × CAN interfaces (2.0B Active)
SDIO interface
Advanced connectivity
USB 2.0 full-speed device/host/OTG controller with on-chip PHY
USB 2.0 high-speed/full-speed device/host/OTG controller with dedicated DMA, on-chip full-speed PHY and ULPI
10/100 Ethernet MAC with dedicated DMA: supports IEEE 1588v2 hardware, MII/RMII
8- to 14-bit parallel camera interface up to 54 Mbytes/s
True random number generator
CRC calculation unit
96-bit unique ID
RTC: subsecond accuracy, hardware calendar
Core processor: ARM Cortex-M4
Core size: 32-Bit
Speed: 168MHz
Connectivity: CAN, DCMI, EBI/EMI, Ethernet, I²C, IrDA, LIN, SPI, UART/USART, USB OTG
Peripherals: Brown-out Detect/Reset, DMA, I²S, LCD, POR, PWM, WDT
Number of I/O: 82
Program Memory Size: 1MB (1M x 8)
Program Memory Type: FLASH
EEPROM Size: -
RAM Size: 192K x 8
Voltage - Supply (Vcc/Vdd): DC 1.8 V / 3.6 V
Data Converters: A/D 16x12b, D/A 2x12b
Oscillator Type: Internal
Operating Temperature: -40C / 85C
Package / Case: 100-LQFP
Paket içeriği: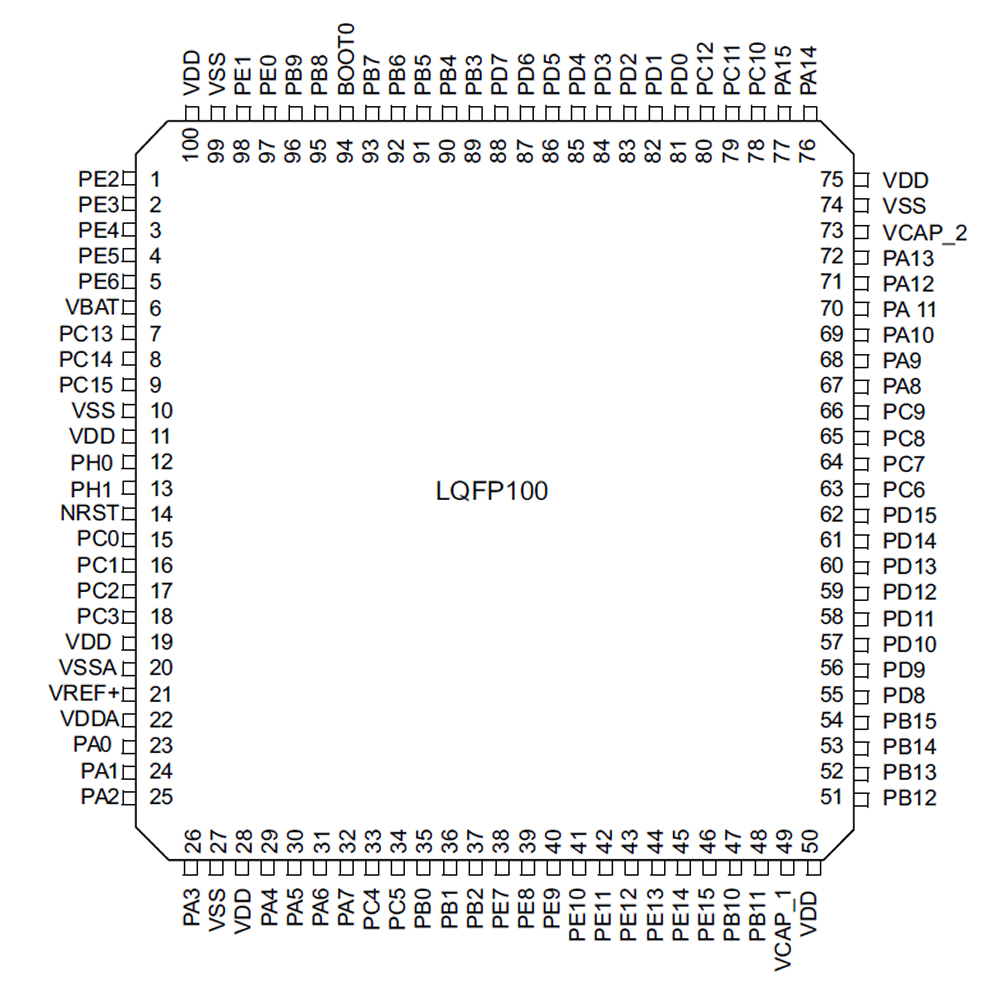 .
STM32F407VGT6