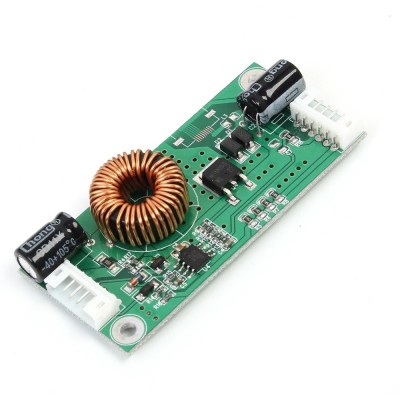 LCD Backlight Boost Modül 12V-24V to 75V Voltaj Yükseltici
12V - 24V giriş voltajını 75V seviyesine yükseltir. 14-37 inch LCD TV lerin backlight ( Arka ışık) led lerinin sürülmesi için kullanılır.
Limit parameters:
When to 24V input: Vout = 75V Iout= 720mA maximum or 60W
When to 12V input: Vout = 75V Iout = 400mA maximum or 30W
Description:
14-37 inch LED Backlight Lamp Driver Board Constant current board
BOOST structure,Conversion efficiency reached more than 92%
Low heat of the Device, stability,have a longer service life
The PCB is small,Slim design,Current control error within ± 5%
This product is constant current board, voltage is automatically adapted
PCB size: about 6.80*3.0cm/2.68"*1.18"
You can use the 12V power supply to reduce the system cost.

Specifications:
Common Electronic symbolic code of Backlight:
VCC: The positive of voltage supply, Circuit supply voltage (voltage is usually 12V or 24V)
ON/OFF,ON,EN,ON_BL: Switch signal pin
PWM,PDIM,VDAJ,BL-PWM: Brightness adjusting pin
GND: Ground (negative electrode)
LED+: the positive electrode of Light emitting diode (lamp)
LED-: the negative electrode of Light emitting diode (lamp)
The temperature rise is controlled at about 25degrees (Temperature rise = device surface temperature - ambient temperature)


Warm Tip
Limit parameter refers to the the maximum capacity when product in the application process.In fact,please under the limit parameters to ensure product reliability when using.

Note: Size for manual measurement, there may be a 0 to 2 cm error, belongs to the normal phenomenon.

Paket İçeriği
1 Adet LCD Backlight Boost Modül 12-24V to 75V
240W Boost Modül